Since 2003, the North American Association of Home Inspectors, Inc. (AHI) has been committed to achieving greater professionalism in the home inspection industry. AHI promotes high standards for those who engage in the home inspection profession each year and has a growing membership in every U.S. state and Canadian province, along with members in other countries.

AHI was formed in response to the need for higher standards for new home inspectors entering the profession, especially in areas where home inspections are not regulated by a state body. Membership is for applicants with home inspection experience or AHI-accredited* home inspection training, who have met applicable state licensing requirements, and who have passed AHI's national certification test or another state or national exam. AHI professional members are designated full members after performing or participating in at least 100 inspections.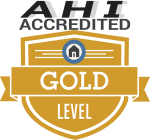 As a non-profit membership organization, AHI does not endorse any home inspection training program. AHI provides a rigorous accreditation process for training schools who desire to have their training programs count towards AHI entry requirements. AHI-accredited training providers who participate in AHI's Gold-Level program are eligible to provide free 1-year AHI memberships to their graduates.

AHI's mission is as follows:

1. To advocate high standards of practice.
2. To enforce a code of ethics that protects consumers.
3. To provide opportunities and education for members.
4. To provide professional development for members.
5. To provide the above services at a reasonable price.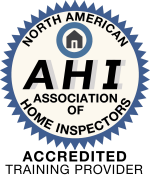 * To become an AHI-accredited training provider, a home inspector training school must submit an application to AHI for approval. Applicants are required to have one visit to the training site; a review of the curriculum, enrollment and company structure, be authorized or licensed by its state post-secondary education governing body and not facing disciplinary action; be insured and bonded; have been in continuous operation as a home inspector school under the same ownership for at least 10 years; be an accredited member of the Better Business Bureau with a satisfactory complaint history; and employ instructors who hold valid home inspector licenses in the state(s) where the training is conducted. Accreditation is renewed every 3 years. Note that the application processing fee, which includes travel expenses, background checks and administrative fees, is based upon the school's average annual enrollment and is not refundable.


Privacy Policy

Information Collection, Use, and Sharing:
We are the sole owners of the information collected on this site. We only have access to/collect information that you voluntarily give us via email or other direct contact from you. We will not sell or rent this information to anyone. We will use your information to respond to you, regarding the reason you contacted us. We will not share your information with any third party outside of our organization, other than as necessary to fulfill your request, e.g. to ship an order. Unless you ask us not to, we may contact you via email in the future to tell you about specials, new products or services, or changes to this privacy policy.

Your Access to and Control Over Information:
You may opt out of any future contacts from us at any time. You can do the following at any time by contacting us via the email address or phone number given on our website: (1) See what data we have about you, if any; (2) Change/correct any data we have about you; (3)Have us delete any data we have about you; (4) Express any concern you have about our use of your data.

Security:
We take precautions to protect your information. When you submit sensitive information via the website, your information is protected both online and offline. Wherever we collect sensitive information (such as credit card data), that information is encrypted and transmitted to us in a secure way. You can verify this by looking for a closed lock icon at the bottom of your web browser, or looking for "https" at the beginning of the address of the web page.

While we use encryption to protect sensitive information transmitted online, we also protect your information offline. Only employees who need the information to perform a specific job (for example, billing or customer service) are granted access to personally identifiable information. The computers/servers in which we store personally identifiable information are kept in a secure environment. If you feel that we are not abiding by this privacy policy, you should contact us immediately via our contact page.